Welcome to WeLearn, where we believe that learning is the key to unlocking your full potential and helping your organization thrive. For the past three years, WeLearn has been named to the Training Industry Top Training Companies Watch List for Custom Content Development. This recognition is a testament to our unwavering commitment to creating beautiful and thoughtfully designed learning experiences that connect with people through facilitated, collaborative learning.
WeLearn Learning Services has also been honored with eight Brandon Hall Group Awards, recognizing our excellence in creating innovative learning solutions that help organizations achieve their goals through the development of their talent. Our awards have been earned in Learning Strategy, Custom Content Development, and for Best Learning Team, showcasing our expertise across the entire spectrum of learning and development.
At WeLearn, we understand that every organization has unique needs when it comes to learning and development. That's why we work closely with our clients to create customized solutions that meet their specific requirements. Our team of experts uses the latest technology and best practices to design and deliver engaging and effective learning experiences that help individuals and organizations reach their full potential.
Whether you're looking to develop your talent, enhance their skills, or reenergize your learning strategy, WeLearn is here to help. Contact us today to learn more about how we can help you and your organization thrive through the power of learning.
We are all in this together, and together WeLearn.
We believe great learning solutions must be current, relevant, beautiful, and engaging.
We believe in narrative design – Sometimes your content tells the story. Sometimes your learners do.
We practice Content First Design (CFD)- Content should have a major role in defining its presentation. Listen to the content; it will tell you how it wants to be presented.
We apply the best practices of material design – A single underlying system allows for a unified experience across platforms and devices. Mobile precepts are fundamental, but touch, voice, mouse, and keyboard are all input methods.
We provide take-away learning. People need something for their time. We build experiences that give them that, e.g. A particularly a useful job aide, a workbook, or a network of fellow users.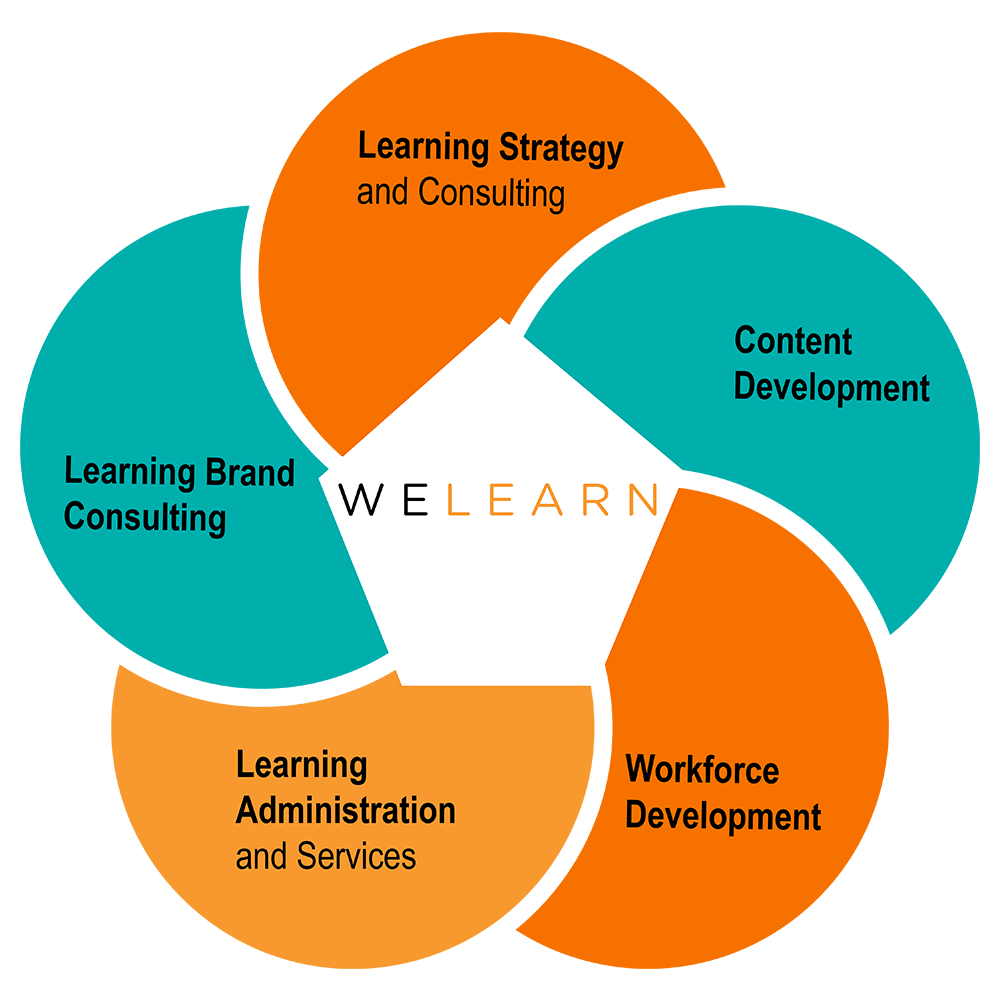 Learning Strategy
How you define your vision is what makes a great strategy. At WeLearn, we help you realize this vision.
Content Development
WeLearn is your end-to-end partner for developing beautiful, engaging, and relevant learning programs enabled by our content development process.
Workforce Develpment
Reskilling, Upskilling,and Outskilling are all important tools in how you develop your workforce. Let us partner with you to scale your workforce and talent development efforts.
Learning Administration
We offer a full-service team to manage your lifelong learning catalog or support your team during peak volume scenarios.
Learning Brand Consulting
Designing your life-long learning brand…. How you portray the culture of your business...
Hover over a topic for more information.
We are loyal to each other and our clients. We believe in being a steadfast ally to each other and out clients to achieve their mission and their goals.

 

We are supportive. We believe that nurturing people and ideas sparks the flow of creativity and learning.

 

We are trusted. We strive to be true to our word everyday, because our word is our bond.

 

We are grateful. We have gratitude for each other, for the opportunity we have to work together, and for the clients we get to serve everyday.

 
We are creative. We are makers and creators in the truest sense of the words. Every day we work to bring forth new ideas into the world.

 

We are inclusive of individuals and of ideas. We believe that learning is a tool in advancing equity and addressing the injustices of the past.

 

We are empathetic. We practice empathy with each other, our partners, and ultimately the learners we serve. That is why we place the learner in the center of all that we do.

 

We are fearless. We are bold and brave in our ideas and our actions.

 
Request a
Free Consultation!
Are you looking to tackle a big challenge or to create good trouble….whether you are looking for a custom course, to enhance your learning brand, or to create a new approach for building talent – we can help. Please fill out the form below and we will be in touch shortly.

8 The Green 
STE A
Dover, DE 19901
c/o WeWork
4753 North Broadway Avenue 
Chicago, IL 6040 
201 Thomas Johnson Drive 
Frederick, MD 21702