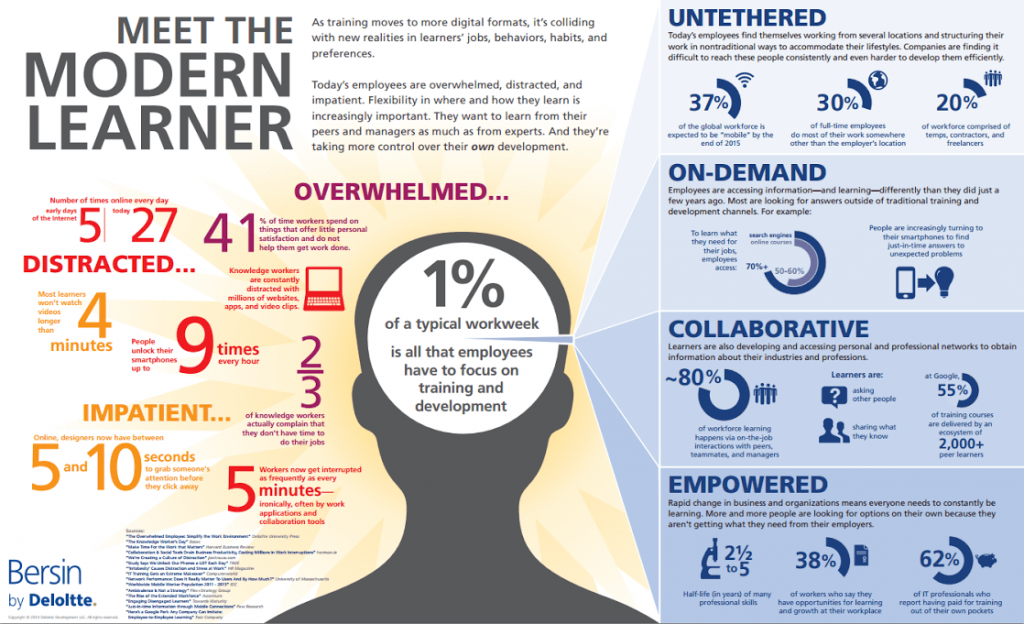 When the modern learner has a choice between the typical learning content and let's say, a great puppy video on YouTube, let's be honest: A cute puppy will always win.
So, what is the key to great content in a digital learning experience? We believe the content must be human. The language we use must be accessible to the audience. It should flow seamlessly into the learner's common context for the way they consume digital content. It has to compete with the cute puppies, and have a chance at winning our learners' attention.
The content (and the entire learning experience) should be inviting—not intimidating. It must be educational and entertaining, concise and relevant.
As you may have learned by now, we enjoy looking beyond the learning profession for inspiration, and when it comes to content, we are fans of our colleagues in the content marketing space. They are masters of the dark art of creating content we love—content that keeps us clicking and scrolling for more.
Here are few of our favorite best practices we think apply to digital learning content creation:
Deliver value with every interaction the learner has with the digital learning experience. One of the reasons we come back and interact with online content is that it delivers some value like  relevance, social currency, or a new perspective.
Meet the moments of need. Digital learning experiences can be long form, but have a strategy to atomize the content so it's accessible the very moment learners need it, Include features like job aids, internal blogs and wikis, an internal video channel, or all of the above. One of the keys to successful content marketing is to have a plan for reusing content in multiple channels – have your own content strategy and plan for sustaining the knowledge!
Create Opportunities for Learner Generated Content. Where possible, find ways to invite the learner into the content creation process within the learning experience. You can do this with expeditions, journaling, or action planning—give them the tools not only to create their own content, but to share it with other learners.
Surprise and delight! This is one of our favorite learning experience best practices. Try to find ways to surprise and delight your learners. Think about Easter egg content or provide a valuable interaction that they were not expecting.
Learners do not dream in jargon, and the reality is, neither do we. When it comes to creating content, humanity is the key.
We would love to hear what you are thinking. If you have a thought, reach out! If you are curious about how to make you approach to developing content more human, we would love to hear from you too!
Together we learn.