Today, we are launching a new series called Friend of the Firm! These are a series of guest blogs from WeLearn's friends, partners and trusted advisors. They will be bringing you different takes and philosophies on topics that we geek out on e.g. learning, upskilling, reskilling, sales and more. Check out our first #FOF from Dr. Kate Hixson. 
I am a strong proponent of constantly upskilling. I believe that to become better colleagues, better leaders, better parents, better friends, and better partners, we must always be striving for continual improvement. 
What does improvement mean, though? To me, improvement means a diligent and concerted effort to both brush up on existing knowledge, skills and abilities (KSAs), but also to gain new knowledge, skills and abilities. 
Now, of course, these KSAs can vary widely according to what role you're performing at that time, or what you're setting out to accomplish. From soft skills- like communication or empathy- to tactical, technical skills- like, say, financial literacy or business administration- there are a variety of necessary competencies that are vital to our success and performance in our personal and professional lives. 
WeLearn sets out- every single day- to design and develop delightful ways for you to gain those necessary KSAs. We seek to provide you with surprising opportunities to gain those tactical knowledge, skills and abilities that are crucial to your performance and success. Through informal and formal learning opportunities, you can constantly refresh your expertise, as well as continually expand your proficiencies. 
And while yes, we strive to enable every single human to meet baseline performance, we also want people to be able to reach beyond. To strive for more. To achieve the extraordinary. 
That's why we firmly believe in lifelong learning and true learning agility. 
What does this mean? 
Lifelong learning enables you to be forward-thinking and future-oriented. By having a constant growth mindset, you- by default- will always be looking for new opportunities and areas for development.
Avoid Complacency 
How do you embrace and demonstrate lifelong learning? A core principle to keep in mind is to avoid complacency. Instead, you must stretch. Many researchers have suggested that learning takes place only when people stretch outside their comfort zone. 
This ties back to the idea of being future-oriented. It is sometimes easy to focus on your day-to-day tasks. This can lead to a stalling of personal and professional development, and an automatization of tasks. In short, a meaningful impact on business will fail to appear.
While learning agility can certainly support your daily To Dos by giving you new skills or increased knowledge, it also can lead you to constantly peak around the corner and think about what's in store for your next horizon. As such, you can stretch beyond your comfort zone (the present) and stretch into your learning zone (the future). This is precisely how big changes and positive impacts can occur.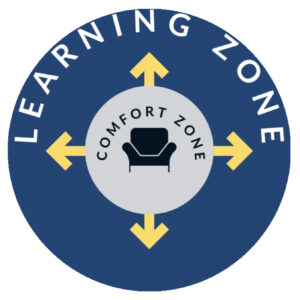 Keep Cycling Up 
However, it is not enough to stretch into your learning zone. You also must constantly set new learning and development goals. Once you have reached a new level of skill and knowledge proficiency and subsequent mastery- you must then look towards the next level. 
Consider This
In the academic research article- A Framework of Mental Toughness in the World's Best Performers- the authors studied top Olympic athletes, world champions and coaches. They determined that each of these world-class professionals exhibited a similar trait: a consistent dedication to constantly up-leveling their performance. Whether they won an Olympic gold medal or took home a trophy on a world-stage, these athletes never quit in their pursuit of new goals, and bigger achievements. 
You, too, can adopt this same mindset. Learning and growing must become a habit, so that you are always progressing and reaching new levels at your practice. 
But how do you do that? How do you lean into a continual high-performance mentality? Start by starting, and please download the following 90-day goal planner. This simple tool will help you to first identify several key goals, as well as how to then work them into a routine and ultimately- a habit of continuous achievement.
But That's Not All
We're so committed to lifelong learning that we developed a simple- yet innovative- experience for you: The CRUSH Labs. This free email course costs you absolutely nothing, except some of your time each week. Through this learning experience, we will cover:
Landing a mentor

Overcoming fears

Identifying (and moving past) a catalyst

Setting goals and mini-goals

Seeing yourself dauntlessly

Uncovering your secret sauce

Building out your toolkit

And much more!
The CRUSH Labs is brought to you by your friends and WeLearn Learning Services, and yours truly- Dr Kate Hixson. I am so excited to have you join us on this dauntless journey as we uncover and unpack actionable tips and strategies on how you can uplevel your life. Ready to dive in? Sign-up here.
In the meantime, think about what new knowledge or skill you can focus on this week. What's a new podcast you can listen to? Can you try out a new cooking style for dinner? Take a completely different route to work or to pick up your kids? The point is- try something new this week. Take note. Put a new little nugget of knowledge in your pocket. That's the very start of lifelong learning. 
We are all in this together, and together we learn.