Design in the foundation of a truly great digital product. Whether it is an app on the Apple App Store, Netflix, or Amazon—every great digital experience starts with design. Yet when it comes to creating digital learning products, designers tend to focus on the didactic design and, to a lesser degree, the visual design of the learning experience.
Brands like Amazon, Apple, and Netflix are iconic, and the foundation of everything they do and every product they create, or that is created for, their platforms is a design system. Here are a few examples:
According to User Experience Designer, Paul Boag, a design system consists of the following components: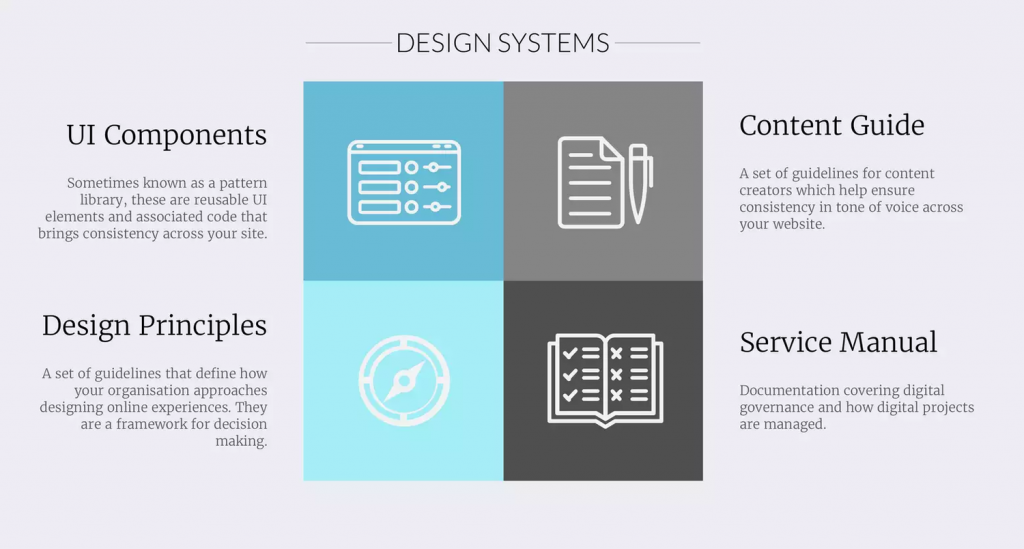 We believe this structure, slightly modified, works for creating a design system for digital learning solution products:
UI Components and/or templates: A pattern library or a library of templates for your preferred authoring tool ensure consistency in the products you create. This can grow over time.
Design principles: These are your overarching design principles, like the ones we discussed in our Klingon vs. Dothraki post.
Visual Design Guidelines: These are clear expectation for using of color, imagery, and iconography. They help keep your brand and visual cues consistent throughout your learning experiences.
Instructional and Content Guidelines: These outline instructional design standards as well as tone and voice for content creation. 
Digital Service Manual: You need a manual for project management and project governance.
We know this sounds like a lot of work, but we believe there are the several benefits of creating standards for the digital learning product development:
Improved learner experience
Consistency of learner experience
Accuracy in costing
Improved partnership models with external vendors
We would be remiss if we did not pause and acknowledge the panic some may feel in having a design system. Some creatives may think a design system will choke innovation and creativity. We understand—standards sound like four walls, and a confined space, but a design system is notconfining—it creates freedom and harmony, where creativity can flow organically in a unified direction. It is a living, breathing approach to building digital products. Your design system can evolve and consider new ways of developing and building products, so long as it is core to your unifying design principles, and is scalable.
The life span of the digital learning product is another important aspect of a digital design system. Having a digital design system helps ensure the product can be maintained, long after the original development team has moved on to new projects.
Some of you may be feeling excited by this topic. That is great! We would love to hear from you and continue this dialog with you. We would love to help you on your journey.
Some of you may be feeling intimidated by this topic. That is cool—we would love to hear from you too, and we are glad to help you on your journey as well.
Remember we are all in this together as a profession.
Together we learn.