Add a header to begin generating the table of contents
Let's talk about SMEs baby, let's talk about you and me, let's talk about all the good things and the bad things that maybe.
We hope that you will pardon our parody of the iconic hip-hop trio Salt-N-Pepa, but in our time of social distancing, we have a ton of time to rediscover music we love and it made for as catchy of a title as it did a tune. But now on to the point of our post:
Where Would We Be With Out SMEs?
As we continue to live in a time of social distancing – and for many – a new world of remote work, as learning professionals, you have no doubt been scrambling to rethink how you are deploying learning to the masses – especially programs that were to be delivered in a classroom format that now needs to move to be delivered live virtually, asynchronously online, or blended  – and that has us thinking about subject matter experts – you know – SMEs. 
SMEs are the lifeblood of the learning and development organization. Whether they are internal to the organization – or external – they are the domain experts we tap into for the content we deliver in our programs. It would be nice if as L&D professionals we were all-knowing about every topic – but alas we have our own special superpowers – and being omniscient is generally not one of them.
So What Makes for A Great SME?
But often do we think about what makes a great SME, what tools should we give an SME to help them better do their job, how do we train an SME to be part of the processes we need them to be a part of, and as we continue to learn the lessons of this time of disruption, what will the role of SMEs be in the future ?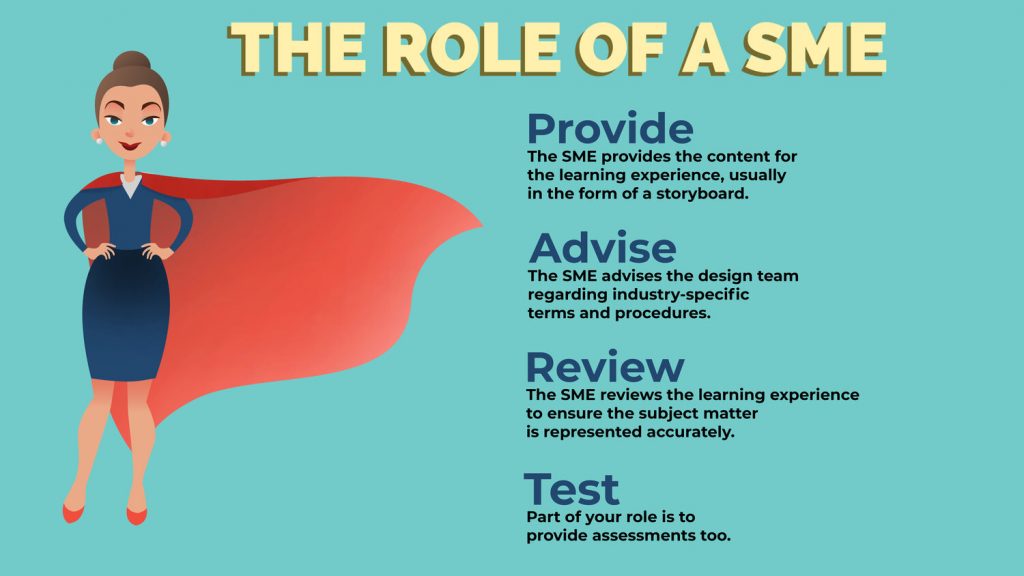 SMEs are Learners Too!
So, the SMEs now know their part (see what we did there?)  – but what are you doing to train them for their role. Recently for a client, we reflected on the need to train SMEs to perform the role we needed them to play – and the result was a short SME course. We realized that all too often when we engage SMEs we are bargaining with them – being respectful of their time, promising to "lighten the load", to do the heavy work – and at the same time, we are shortchanging our SMEs of a meaningful opportunity to build and hone new skills. 
As we emerge from our new normal, we need to think about how to use SMEs and more importantly how we develop their skills to make them more effective partners in the process of learning
Be on the lookout for more on this topic from us, and as always we would love to hear your thoughts as well. As we say around here, together we learn!