Add a header to begin generating the table of contents
In an era of massive transformation, the learning and development role has changed fundamentally.
It is playing a new mandate in an effort to become its best self.
Leaders are answering employees' renewed calls for growth and purpose, as well as grappling with the urgent challenge of future-proofing their organizations. 
With the need for future-proofing, L&D teams have the opportunity to become the lead change agents in their organizations, aiding the shift from traditional models to more dynamic approaches to reach greater success. 
In this blog, we will explore the strategic role of L&D in this new business landscape and what they can do to help their organizations.
1. Never S
top Learning Themselves While Helping Others Learn
As L&D professionals, there's a lot of responsibility placed on your shoulders. 
You're charged with creating high-impact, high-quality learning experiences for your organizations, and now you're being asked to do even more: to help future-proof entire organizations. 
In order to meet these expectations, you need to stay up to date with the latest trends and technologies in the industry. 
You must have a deep understanding of the potential of learning experiences and be able to develop strategies to tackle any challenges that come your way. 
That's why it's important to never stop learning. 
However, data shows that L&D learners spend 35% less time learning than their HR colleagues.
You must stay informed and educated so that we can be the best possible resource for our organizations. 
Continuous learning will enable you to develop creative solutions to the problems facing your organization. 
2. Developing And Shaping A Learning Strategy
Another way the learning and development role has evolved is regarding the demand for shaping entire learning strategies.
The focus of your role is to identify and develop resources and strategies that will help organizations meet their talent needs and maximize the potential of their people. 
At the heart of our role is a need to develop and shape a learning strategy that aligns with the company's business and talent strategies. 
There are a number of prominent areas where we can make a difference in this regard. 
Skilling.

The focus of your role is to identify the skills and training required to ensure employees are equipped to handle the changing demands of their roles. 

Employee Retention.

L&D professionals are expected to help organizations create a culture that recognizes the value of its people. 

Well-being.

Organizations are turning to L&D professionals to create a culture where mental, emotional, and physical well-being is prioritized. The most critical factor in this regard is each person's manager. To that end, a report suggests

that 49% of L&D have put increased attention on manager training and support.

Leadership.

Organizations are increasingly looking to L&D professionals to help them develop the leadership skills of their people.

49% of L&D programs in 2022 focused on leadership

and management training.

DE&I.

This involves developing the right resources and initiatives to ensure employees feel a sense of belonging and are given opportunities to reach their full potential. According to the same report, 26% of L&D programs in 2022 focused on this area.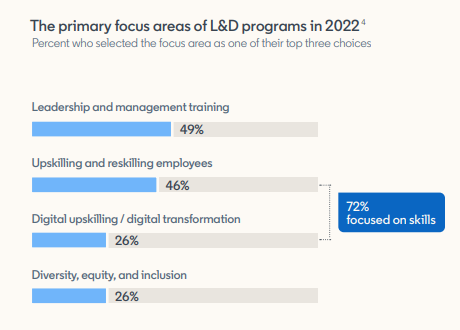 3. Integration Of L&D Interventions Into HR Processes
With the ever-evolving landscape of human resources, the learning and development role can be more proactive and collaborative within this department. 
The traditional silos that exist within most organizations can limit the scope and impact of an L&D professional's work. 
By breaking down these silos, L&D professionals can have a greater impact in creating a holistic vision for the HR department. 
This could involve more integrated L&D interventions, such as offering targeted learning and development programs that span across different departments and/or creating more cross-functional teams to help facilitate better cooperation. 
Moreover, with greater collaboration between different HR departments, L&D professionals can play a greater role in the overall organizational strategy. 
Moving Away From Stand-Alone Programs By Designing Learning Journeys
The strategic learning and development role within the HR department is ever-growing, and L&D professionals should continue to focus on developing their own skills while helping others do the same. 
With a holistic vision for learning, L&D professionals are having an increasingly large impact on organizational success.
Learning and development professionals are moving away from stand-alone programs by designing learning journeys and integrating more with HR functions.
The shift is driven by the desire to provide a holistic approach to talent management, which includes an integrated approach to training, development, and retention.