Add a header to begin generating the table of contents
Take a Pause. Take Stock. 
Hey – when is the last time you were able to take a minute, stop, catch your breath and do a reset? It has probably been a minute. The past year and half have been a whirl wind of activity. Deploying new technologies, shifting programs from classroom to virtual, developing new programs – let's face it we have all been running a marathon – but at sprint speed. So, take a breath. Take a pause. Take stock.
After such a chaotic year, it would be easy to keep your head down and keep doing what you are doing, but strategically, it is a great time to rethink your content development strategy. 
In a recent article on Reworked.co, Heather Gilmartin Adams wrote that as learning functions we have moved from a time where content development was largely owned by the function, there are now a range of options for content – content created by L&D, content created by SMEs in the organization, user generated content, online content (YouTube, social media, podcasts), and vendor generated content (custom developed and online libraries) – in short – the content game has gotten a bit more chaotic. 
The Why? 
Given the ever-increasing amounts of content available it would be easy for learning functions (and learners for that matter) to throw their hands up. Add to that mix an increasingly hybrid working model in which some individuals will return to the office – while others may only return occasionally or not at all – the considerations about what content to develop, how to deliver it, and how to maintain it across multiple modalities – is more important than over. 
Training Industry Inc has studied high performing learning organizations for over 12 years, and has found that Strategic Alignment,  Content Development, Delivery, and Portfolio Management  are among some of the most important capabilities of a great training organization.  
As learning professionals, we have an unprecedented opportunity to rethink and reimage how we think about content and learning in the organization, for example:
How can we deliver learning in the flow of work, so that it

feels natural

and part of the workday? 

What new mediums can we experiment with (

podcasts

,

user generated content

, AR/VR, others) to create content that is more relevant or timely? 

What new technologies should we be considering for enabling our delivery of content to our learners? 

What new skills or types of individuals do we need to bring onto our content development teams? 
As the world of work continues to change so must our models for thinking about content development. 
A New Model 
So, what does a new model for content development look like? We like some recent work from RedThread Research that applies some additional context to the traditional build vs. buy vs. partner matrix. 
They propose evaluation of your content development strategy against two dimensions – specificity, or the uniqueness of the content to the organization, and durability, or the shelf life of the content. 
Using these two dimensions, they have created the following matrix for organizations to use in guiding their content development decisions: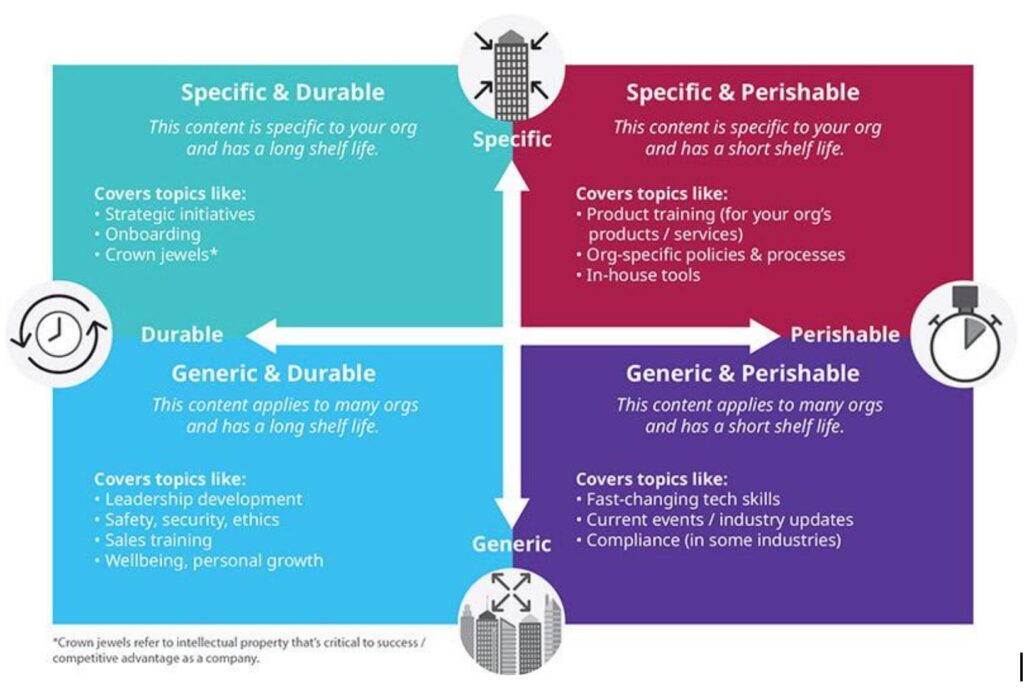 This model not only helps to think through the build vs. buy vs. partner considerations -but also through the level of development effort (and expense) the organization should put into the specific development project. 
We Can Help 
Rethinking your content development strategy can seem overwhelming – but the good news is we can help. Our team is here to assist you – whether it is thinking through the rationalization of your content portfolio, thinking through new strategies for the design and development of content, or building engaging and impactful learning experiences. 
We are all in this together, and together we learn.